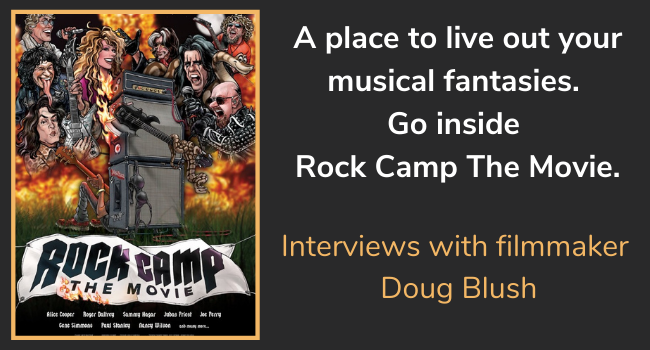 Rock Camp The Movie
.
Rock Camp The Movie was co-directed by Doug Blush and Renée Barron. Doug also produced the film with Jeff Rowe.
Get a backstage pass into the inspiration behind Rock 'n' Roll Fantasy Camp. Follow four campers through their journey to shred with their heroes and see how they overcome their fears and transform their lives. Rock stars remember their humble beginnings and reconnect with their love of music.
Doug recently did a flurry of interviews for Rock Camp including a Q & A with Ed Rampell of Rock Center Magazine and a live interview with  MoreFox5 in Las Vegas.
Some of the musicians featured in the film are Alice Cooper, Nancy Wilson, Roger Daltrey, Sammy Hagar, Judas Priest, Joe Perry, Paul Stanley, Vinny Appice, Gene Simmons and many more.
Take a look at the trailer.