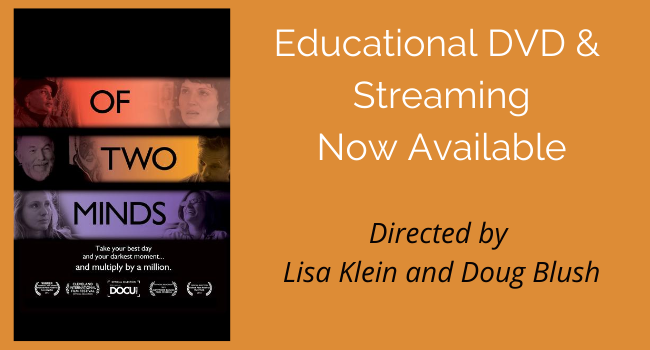 Of Two Minds Educational Release
.
Take your best day and your darkest moment…and multiply it by a million.
OF TWO MINDS is an award-winning feature documentary that explores the extraordinary lives, struggles and successes of a few of the over five million Americans living with bipolar disorder. Personal stories of harrowing events, medical mazes, discrimination and the efforts of social stigma blend together to create a compelling look at a generation coming out of the "bipolar closet." OF TWO MINDS puts an authentic human face on bipolar disorder, providing an intimate, sometimes painful, sometimes painfully funny look at those who live in its shadows: our parents and children, our friends and lovers…and ourselves.
OF TWO MINDS is now available via Good Docs for virtual educational and community screenings as well as lifetime purchase of the DVD. It is also available for individual purchase on Amazon.
"OF TWO MINDS is one of the best – if not the best – documentaries I've ever seen on mental illness."
– NAMI (National Association of Mental Illness) | Noelina Arciniegas, LCSW, MPH, Former Associate Program Director
"An intimate look at bipolar disorder."
– Los Angeles Times | Kenneth Turan

"OF TWO MINDS is a film about people, brave souls willing to reveal personal stories of the torment raging inside their brains. This is intimate storytelling."
– Cleveland Plain Dealer | Clint O'Connor