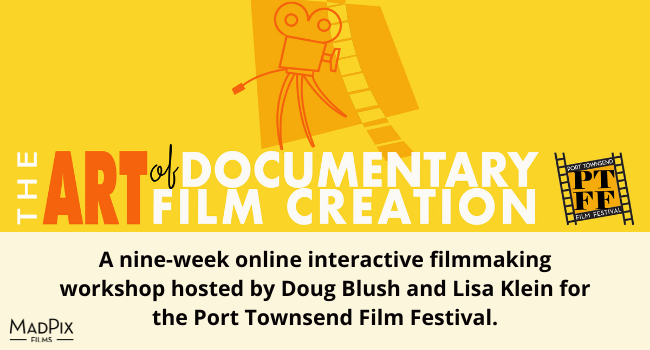 Port Townsend Film Festival Workshop
.
The Port Townsend Film Festival has partnered with MadPix Films' Doug Blush and Lisa Klein to offer The Art of Documentary Film Creation. The online documentary filmmaking seminar is taught by the pair, who are PTFF's 2021 Filmmakers-in-Residence (remotely, this year!).
The goal of the nine-week class is to give students a solid foundation to plan, produce, shoot, direct, edit and exhibit their own documentary films. Each participant will create a short film (likely 5-7 minutes in length) that will be screened at the end of the seminar. Students will also learn about pitching and financing projects and will explore new territories like VR and multimedia non-fiction.
From the PTFF:
Doug Blush and Lisa Klein are accomplished filmmakers and teachers who've attended the Port Townsend Film Festival for years and are now excited to expand their involvement with the organization. Klein directed the award-winning documentary, THE S WORD, which screened at the 2017 Festival. She's received accolades for her work as a director, screenwriter, producer, editor, and teacher. Blush is an award-winning filmmaker who has worked on over 200 feature film and television projects. His body of work includes three Academy Award winners, as well as a wide range of Emmy, Grammy, Peabody and Sundance winning films. In addition, he has been teaching cinematic arts and production at the graduate level for over 20 years. The pair founded MadPix, Inc. a film production company committed to making powerful and engaging documentaries focusing on social justice issues.
PTFF is honored to bring their expertise to our community. Board member Jeffrey Youde said of the seminar, "I couldn't be more excited about this seminar. If you've ever wanted to learn how to make a short documentary film from two of the best in the film industry, don't miss this chance to work with Doug and Lisa." Port Townsend Film Festival has committed to our mission, "connecting filmmakers and audiences" by offering this opportunity to help our neighbors participate in filmmaking or simply to deepen their understanding of this essential art form.
The seminar runs June 1 – July 27, 2021, meeting every Tuesday. There are eight class meetings for instruction and learning, with the ninth class featuring a virtual showcase of final student projects. Zoom class meetings are live and interactive.
For complete course description and to register, visit the Port Townsend Film Festival website.
Doug and Lisa thank the PTFF for the opportunity to teach this workshop and are very much looking forward to getting started!
And, another thank you to the Jefferson County Leader newspaper for a wonderful article about the upcoming workshop.