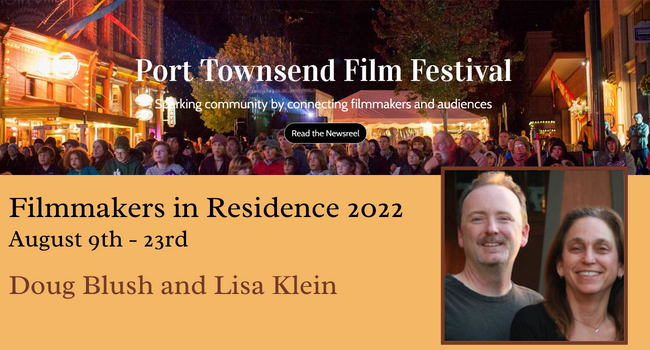 Filmmakers in Residence in Port Townsend
.
Doug Blush and Lisa Klein are thrilled to be this year's Filmmakers in Residence at the Port Townsend Film Festival for an in-person teaching program!
Doug and Lisa will lead a 3 session class on beginning your journey into documentary filmmaking Aug 16, 18, and 22 from 10am-12pm in the PTFF office at 211 Taylor St, Ste 401A. Do you have an idea for a documentary film but are not sure where to start? Have you begun interviewing or writing but struggle to know how to shape the information you're discovering? Doug and Lisa have decades of experience in telling fact-based stories with emotional impact and award-winning results. Learn from the best in three easy sessions that will leave you inspired and ready to move forward with a concrete plan. $50 registration fee. Call (360) 379-1333 or write info@ptfilmfest.com to register.