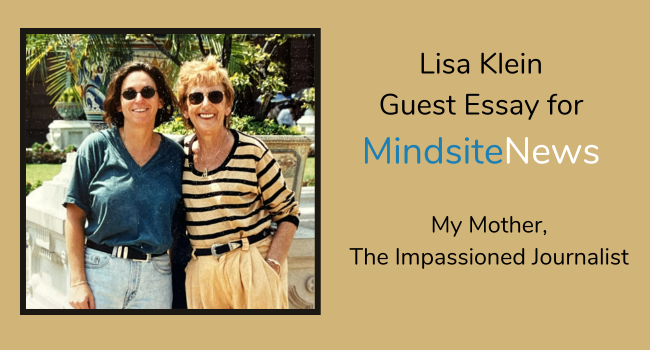 Guest Essay for Mindsite News
.
Madpix Films co-founder, Lisa Klein, recently wrote an essay for MindsiteNews about her mother, Jackie Klein, who was a journalist for more than 50 years in Southfield, Michigan. Jackie was "the voice of Southfield." This story is a reflection on the ambiguities of love and loss.
MindsiteNews is a nonprofit, nonpartisan digital journalism organization dedicated to reporting on mental health in America.
Voice of Southfield Silenced for Eternity.
That was the title of my mother's obituary. And this was its lead sentence: She loved Southfield. Above all else, journalist Jackie Klein loved her city.
"Above all else?" That was pretty extreme, even if Southfield gave her fewer headaches than her real family and she didn't have to put it through college and graduate school. As a small-town newspaper reporter, my mom wrote hundreds of articles and columns about local goings-on for the Southfield Eccentric, the daily newspaper serving this Michigan suburb nestled in the shadow of its more complicated sibling, Detroit.
It's been 20 years since that obituary appeared, almost enough time for me to stop mumbling about "above all else" in my sleep. Almost. She was, after all:
The seasoned reporter and columnist with a cigarette dangling from her lips as her delicate fingers danced across the typewriter keys. The tales of Jackie Klein are legendary around the newsroom. She was from the old-school, when the jokes were salty and the editors' desks had a pint of whiskey in the top drawer.
I wonder if she felt she had that kind of power at home. After she died, all I was able to feel was the void, that she wouldn't be here for my daughter's first birthday or experience the joy of watching her grow up. I never stopped to think about the city she left behind: her other family – the one that was more functional.
Read the full essay on MindsiteNews.